Hooke's Law
Hooke's Law explains how "ideal" springs behave under tension.
When no force is applied to a spring, the spring is at rest. It's rest position is X1.

When a force (Fa) is applied to the spring, it will stretch by a certain amount. Its new position will be X2

The amount of stretch is given by the change from position X1 to position X2. This change in position is ∆X.
Where, ∆X.= X2 - X1
The amount of stretch (∆X) .is proportional to the applied force Fa. Therefore:

Graphically, this relationship can be shown as: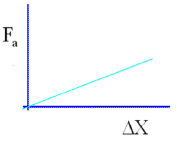 The Spring constant depends on factors such:
The type of material (spring, elastic band, string...)

the diameter of the material (spring, elastic band, string...)

the thickness of the material (spring, elastic band, string...)

the cross section of the material (spring, elastic band, string...)

number of coils in spring (spring, elastic band, string...)