Consider a small particle moving in a circle with radius "r" along the circumference from point A to point B tracing an arc length "s"
.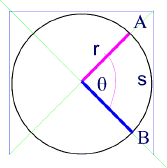 Defining a Radian:
When the arc s = r , Ө = 1 radian measure, therefore Ө = s / r
Wher the angle Ө is measured in radians.
Ө is known as the angular distance.
s is the linear distance (generally called "d")
d = r Ө
Since Ө = s / r (or Ө = d / r), we can relate the linear distance d to the angular distance Ө using the simple equation:
Recall that

This can be obtained by dividing the left side of the above equation by ∆t).
Dividing the right side of the same equation by ∆t we obtain the following

.
The factor

is known as the angular velocity.
The symbol for angular velocity is ω (pronounced "omega"). Its units are "radians per second -- rad/s".
Where

and

We can also express the angular velocity ω in terms of the frequency of rotation "f".
Starting from
we get...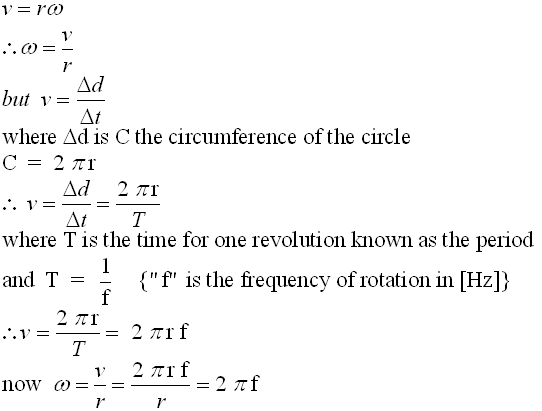 Therefore: ω = 2πf
In this case f is measured in revolutions per second (Hz) and ω is measured in radians per second
Similarly we can show that by dividing both sides of the equation

by

we can obtain expressions for acceleration.

The left side of the equation defines the linear acceleration "a".
The right side of equation defines the angular acceleration "a" (pronounced "alpha").
Recall that in a full circle, the total radian/angular measure is θ = 3600
The linear distace around the circle, known as circumference, is d = 2 π r (the total circumference of the circle).
We measure θ in radians (a linear measure) instead of degrees.
If d = r θ, then 2πr = [3600] r or simply 2π [radians] = 3600 ,
Consequently the units of the acceleartion, a are m/s2 and the units of "a" are radians/s2 [rads/s2]
Comparing Angular equations of Motion to Linear Quantities
| | |
| --- | --- |
| | |
| Linear Equations of Motion | Angular Equations of Motion |
| v2 = v1 + a t | ω2= ω1 + a t |
| v22 = v12 + 2 a d | ω22= ω12 + 2aӨ |
| d = v1t + 1/2 at2 | Ө = ω1 t+ 1/2at2 |
| vav = (v1 + v2) / 2 | ωav = (ω1 + ω2 ) / 2 |
| | d = r Ө |
| | ω = 2 π f |