GRAPHING ENERGY IN ECOSYSTEMS
A well developed food web looks like a pyramid - the biomass decreases as we move up the web.
It takes thousands of plants to support a few dozen primary consumers which can support just a few secondary consumers which are food for even fewer tertiary consumers, etc. This is because transferring energy up through the food web is an inefficient process.
Graphs called pyramids can be used to represent energy flow in food chains and food webs or the populations of organisms in a food chain.
Pyramid of energy– energy found in the organisms at each tropic level is measured and graphed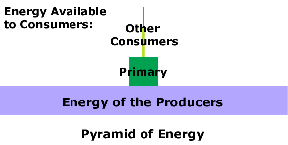 Pyramid of numbers– at each tropic level the number of organisms is measured and graphed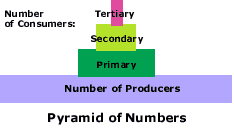 Pyramid of Biomass – at each tropic level the dry mass of all organisms is measured and graphed